If you have been awestruck by the success of the Grabit app, chances are, you have been wondering how to set up your own Grabit Delivery App Clone based business and reap all the benefits of a single app that get any kind of delivery job done. Well, if that is the case, then you are at the right place. Before understanding how you can go about growing your Grabit Delivery Clone app based business, you have to understand the flow of the app or identify exactly how the app works.
So, without any further ado, let's get down to the flow of the app.
The first step is to download the app. The user as well as the service provider (in this case the delivery personnel) can download the app from the Google Play Store and the iOS app store based on their devices.
Once that is done, the users and the delivery professionals need to create their profiles by registering into the app. This process involves either logging in with your social media credentials like that of Facebook and Gmail or registering by filling out a small form.
Then whenever the user needs any kind of delivery made, they can open the app and enter the section concerned. For example, on demand food delivery, on demand grocery delivery, on demand pharmacy delivery, on demand alcohol delivery, on demand bakery delivery etc.
After clicking on that particular service, they will be able to see a list of all the service providers in and around that area. Post that, they can click on the store of their choice and add all the items that they want in their cart.
They can then make the payment and confirm the order, after which the delivery professional is notified of the order.
The delivery professional can then make the delivery after which they can both rate each other based on the services and the product quality.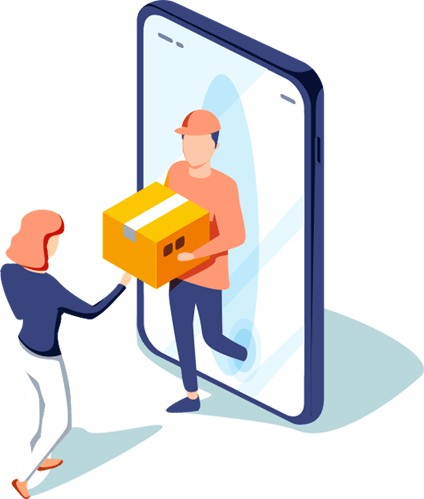 How to make your own Grabit Clone App?
This kind of a delivery business needs a central component of a mobile app to run successfully. This is a very important aspect of your business. This is why; many smart entrepreneurs have opted to build their own on demand all in one delivery application.
However, building an app, especially one that is so complex and large is not easy. It typically takes a large team of 8 to 12 professionals at least 16 to 18 months of development to get the app right. The app building process is also an expensive one. It is easily something that would cost you anywhere between a couple of hundred grands or even more, if you truly want to get it right.
So, the best alternative is to make sure that you opt for a fully ready, easy to launch on demand app. You can hit the market in just 4 to 5 business days. This can be done by doing a quick and simple search on Google for On Demand Grabit Delivery Clone app. 
You will find a list of companies building such apps. You must carefully select the right app from that list based on their demos. Since the app is already fully prepared, it is easy for you to take a trial run of the same. You can test it thoroughly by download it on multiple devices to get a true idea. It is always advisable to test the app on multiple devices on both Android and iOS devices.
Marketing your App
Creating an app is not enough. To ensure its continued growth and popularity you have to make sure that your audience is made aware about the advantages that you are willing to offer with the help of your application.
This means that you have to be on point in terms of marketing your apps.  Create a proper marketing strategy by consulting with a good marketing strategist. Identify what are the strengths of your apps, what are the added benefits that your users will be getting by using your Grabit Delivery clone.
Make sure that you develop a brand that is strong, has a clear communication line and a great vision. Doing adequate amount of research towards what other brands are doing and what the customers really wants will go a long way in helping you settle your position in the market as a leading on demand Grabit Delivery Clone business. 
How to Choose the White Label Company that Builds Your App?
Make sure that the company building your app is a white label on demand mobile app Development Company. It will assert the app as your own with your logo and brand name across the board. 
Make sure that the app you are buying is not just a prototype but a ready made complete app. If you go for a prototype, there will be many things that you will have to modify. This will involve a lot of investment at many stages. 
To prevent any kind of unwanted feature, anomaly, or expenditure, make sure you test the app thoroughly. That is the best way to set up your own on demand Grabit Delivery Clone App based business.