Canada is a technogeek country. With highest density of professionals working in corporates and IT sector. Busy professionals, hectic lifestyle with less "Me" time, grocery shopping is the last thing people want to do. Witnessing the woes, on-demand grocery delivery app Cartly started serving their customers a doorstep grocery delivery. Well, the app was well-received and generated revenue beyond the expecations.
Building An App Like Cartly
Looking at the kind of revenue and the visibility it brought to the company, today many Canadian investors are showing interest in developing one of this kind. Cartly Clone App is designed specifically for small and medium Canadian entrepreneurs. The clone app can be easily integrated with the grocery stores opening up a new channel for increased revenue.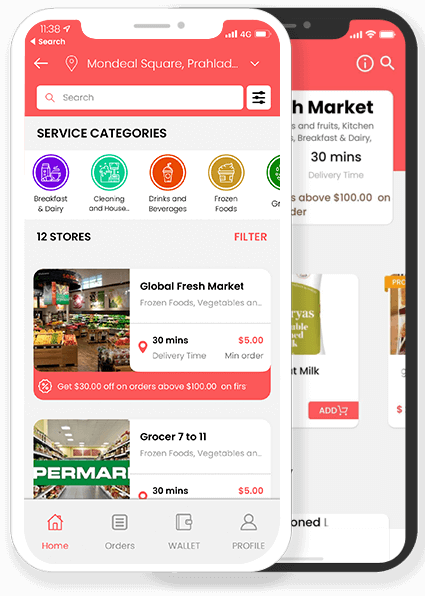 Grocery App For Canada Market Growth
The prominent grocery mobility solutions like Cartly in Canada is doing tremendously good. Surpassing the expectations, the on-demand Grocery Delivery App is growing day by day. Thus there is no second doubt in saying that the grocery delivery apps are here to stay. Thus developing an app like Cartly can be hugely beneficial.
Is Grocery App Sales Going To Take Off?
It is forecasted that the on-demand grocery delivery app sales shall reach $55 billion in the year 2021. This target can be achieved soon due on and off Pandemic lockdowns. Thus, this is the best time to leverage the beenfits of the online grocery delivery shopping by building Cartly Clone App.
Your customers can get rid of the time-consuming hours to buy groceries. Furthermore saving from the long checkout waiting queue. Thus, Cartly Clone App delivers the groceries at the doorstep at the scheduled time.
Why Canadian Investors Should Invest In Cartly Clone App?
If you look closely, Cartly Grocery Delivery App is not just about delivering groceries. There are several crucial aspects that has helped in making the app successful.
The primary goal of your investing is Cartly Clone App should be making your customers happy. How? By immediately providing them with grocery delivery services. For example if your customer wants to buy apples and reach grocery within 30 minutes, or he/she don't. This is the entire point why on-demand grovery deliveries are in vogue.
For immediate provisioning of grovceries it is vital that you connect with the local vendors, suppliers and service providers within different locality areas.
Suitable Cartly Clone Business Model 
If you are planning to build a Cartly Clone App it is best to settle for a marketplace business model.
Marketplace app will connect a wide range of grocery service providers with the users, thus acting as a bridge. You can monetize the app by leveraging charges from the service provider and users both. Promoting 3rd party apps and charging for every delivery booked through this app can be a huge plus.
Apart from the marketplace app, there are other two business models – Single store apps and grocery chain apps.
Single store app acts as an independent virtual store online. It will take the orders, dispatch them and deliver them to the doorstep. The entire business operation is handled by the store app owner. You can expand your app geographically, once it is established.
The grocery chain app store is another popular business model that syncs the entire grocer chain. Here the customer places the order via the app and the nearest grocery chain delivers the order. This way you don't lose on the customers.
Serve Your Customers At The Doorstep With Cartly Clone App
When your app comes incorporated with useful features, it is obvious to catch your customer's attention. They are going to stick to your app for their daily essentials and grocery needs. Therefore, your app must have all good features like:
Different time slots and delivery preferences
Offering different time slots and preferences for deliveries can bring a huge crowd to your grocery delivery app. As a majority of the customers are working professionals thus prefer weekends or deliveries in the evenings. 
Same day delivery
This is one of the attractive element that you should integrate in Cartly Clone App. Customers loves such immediate grocery deliveries and wouldn't mind paying few dollars extra.
Delvering fresh groceries
When your customers receive fresh groceries, they tend to shop more.Thus increasing the revenue of the business. Furthermore, it seamlessly maintains the supply chain and reducing the chances of errors. Also, this boost the trust levels in your customers.
Deals and discount
You customers loves spending more when they find attractive deals on grocery items. Offering them with variety of promo deals and discount enables them to shop more.
Integrating it with other components
Once your Cartly Clone App is up and running, you can integrate with other on-demand delivery services like food, medicines, and so on. This way the app helps you build a steady income flow.
Identify shopping behavior
The Cartly Clone App comes equipped with real-time analytics and reporting feature. This helps in identifying your customer's shopping habit. Based on that you can add, modify and delete suiting the changing demands.
Wrapping Up
The market is swamped by hordes of grocery app but there are only a few who get to go ahead. While developing on-demand grocery apps make sure that you collaborate with a professional app development company. They have knowledgeable skilled professionals and infrastructure that ensures your app will be developed most proficiently. The app development team will be there to clear your queries and doubts, providing you with the scalable white-label solution that paves the way in an on-demand industry.
Regardless of COVID19, the grocery delivery app will have all the essential user-centric features that will help your business scale to greater heights in the shortest time.